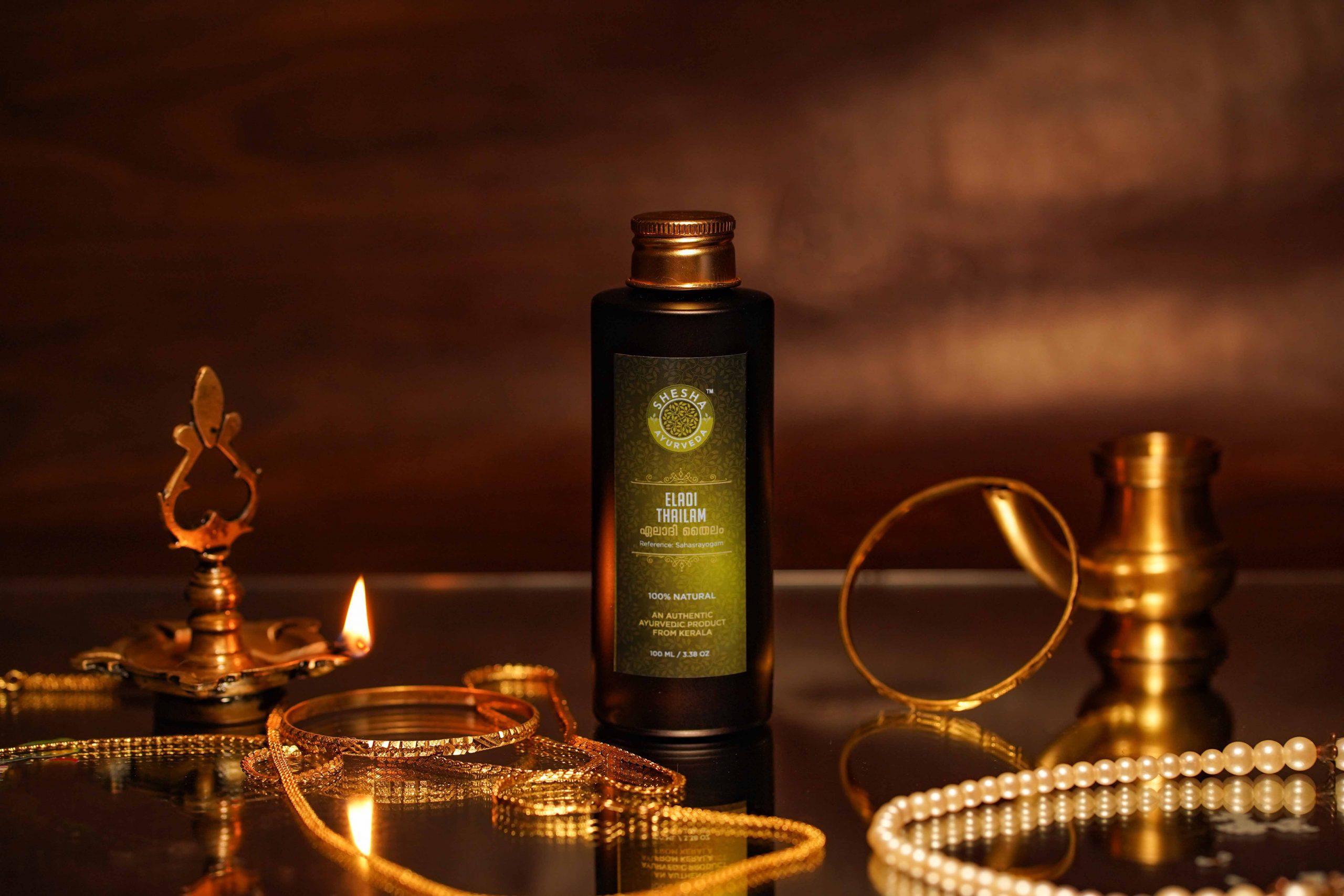 Eladi Thailam For Effective Skin Hydrating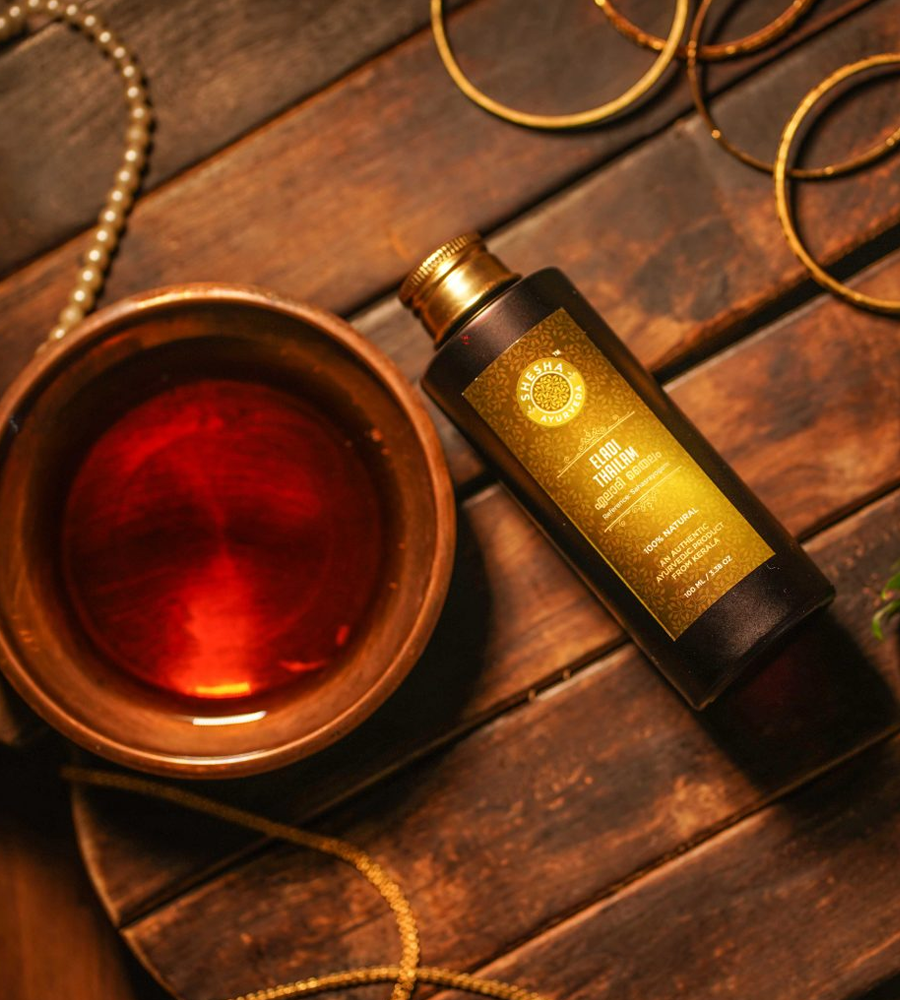 Eladi Thailam is excellent in improving skin lustre and it's hydrating on face and body. It's a classical ayurvedic formulation that's ideal for everyday use. Excellent hydrating and rejuvenating oil for face and body. It has a refreshing natural aroma and it's excellent for dry skin. With regular use, Skin lustre improves and effectively tackle dryness of face. Eladi Thailam pacifies Vata Dosha and Kapha Dosha. Buy Eladi Thailam Online from Shesha Ayurveda
Based on Ayurvedic Reference Sahasrayogam, Eladi Thailam is made of Ela/Trutih/ green cardamom/malabar cardamom, Brihatupakunchika/ Black cardamom, Shallaki/ indian frankincense/khapura, Kashmira/pushkarmool, Indian Kino Tree Bark (Venga), Bel fruit root, Bala/ katturam, Guduchi/Amrithavalli, vasabu/chanda/costus, Hrivera, Phalini, Kumkuma – Saffron, Mayursikha/ray fern, Dhyamakah/ palmarosa grass, White Turmeric/Poolankilangu, Chochapatra, Tejpat/Indian bay leaf, Tagara, Sthauneya, Jati, Bola/Rasagandha, Shukti, Kakanasa, Devadaru/Marahva , Raktavalli/Vempata, Shrivasaka , guggulu, Sal /Devadhupa, Khadira/Balapatra, jyotishmati, Nagahva/Nagkesar, jatamansi , Coconut Milk, camphor in sesame oil base
Can be used a face and body massage oil.
Hydrating on skin
Improves skin lustre with regular use and excellent to tackle dry patches on skin
One of the safest oils which can even be used for baby massages
Helps even out skin complexion and protect the skin from conditions like eczema, scaling, dryness etc.
100% Natural and Authentic Ayurvedic Formulation
Made in Kerala
Benefits of Eladi Thailam
Pterocarpus Marsupium Ht.Wd., Aegle Marmelos Rt., Sida Cordifolia Pl., Tinospora Cordifolia St. , Elettaria cardamomum Fr., Amomum subulatum Sd., Boswellia serrate Exud., Inula racemosa Rt., Callicarpa macrophylla Infl., Coleus vettiveroides St., Actiniopteris radiate W.Pl., Cymbopogon martini Pl., Curcuma zedoaria Rz., Cinnamomum zeylanicum Bk., Cinnamomum tamala Lf., Valeriana wallichii Rz., Taxus baccata Lf., Myristica fragrans Sd., Commiphora myrrha Exud., Ostrea edulis, Martynia annua W.Pl., Cedrus deodara Ht.Wd., Ventilago maderaspatana St.Bk., Pinus longifolia Exud., Costus speciosus Rz., Commiphora wightii Exud., Shorea robusta Exud., Acacia catechu Ht.Wd., Celastrus paniculatus Sd., Mesua ferrea Stmn., Nardostachys jatamansi Rz., Coconut Milk, Sesamum Indicum Sd.Oil., Crocus sativus Sty & Stg., Cinnamomum camphora Exdt.
Based on Ayurvedic Reference: Sahasrayogam, Shesha Ayurveda Eladi Thailam is made of Trutih/green cardamom/malabar cardamom, Brihatupakunchika/ Black cardamom, Shallaki/indian frankincense/khapura, Kashmira/pushkarmool, Indian Kino Tree Bark (Venga),Bel fruit root, Bala/ katturam, Guduchi/Amrithavalli, vasabu/chanda/costus, Hrivera, Phalini, Kumkuma – Saffron, Mayursikha/ray fern, Dhyamakah/ palmarosa grass,WhiteTurmeric/Poolankilangu, Chochapatra, Tejpat/Indian bay leaf, Tagara, Sthauneya, Jati, Bola/Rasagandha, Shukti, Kakanasa, Devadaru/Marahva, Raktavalli/Vempata,Shrivasaka, guggulu,Sal /Devadhupa, Khadira/Balapatra, jyotishmati, Nagahva/Nagkesar, jatamansi , Coconut Milk, camphor in sesame oil base.
Note: Color and the aroma of the product varies from batch to batch depending on the ingredient seasonal changes. You might notice very little amount of sediment, this is completely normal considering the raw nature of the product. Shake well before use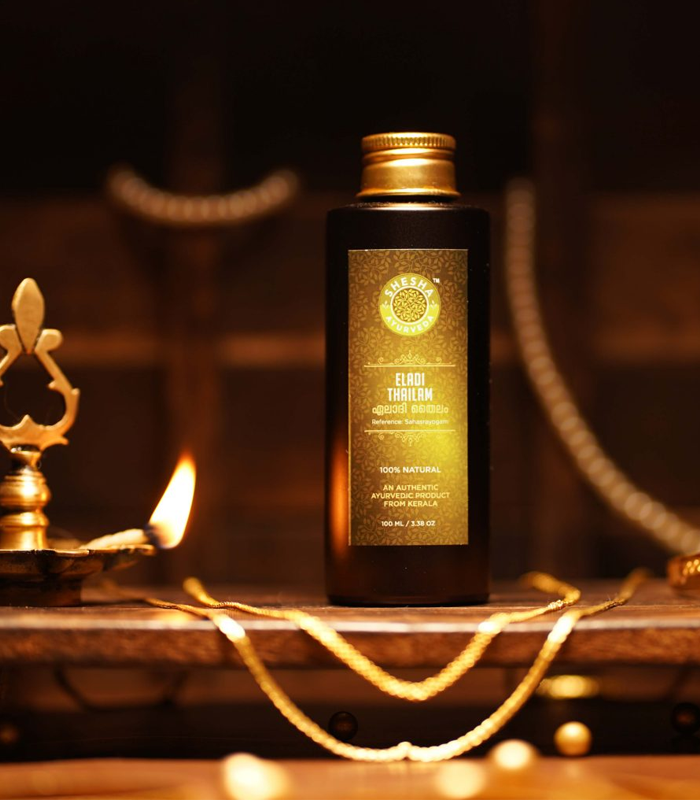 Buy best Eladi Thailam Online from Shesha Ayurveda
Real People, Real Results - Hear from our customers!
[testimonial_r display_author="false" display_avatar="false" display_url="false" items_1201up="1″ items_993_1200="1″ items_769_992="1″ items_641_768="1″ items_360_640="1″ items_0_359="1″ navigation="1″ pagination="1″ item_margin="30″ speed="500″ loop="true" auto="" thumbnail=""]