Continuous sun exposure often results in skin problems like hyperpigmentation, dark spots and dullness etc. Even if you regularly apply a sunscreen sometimes, it's not enough. Skin tends to damage quickly, If you are thinking on how to reverse this, You 'd be totally surprised as in how a 5000 year old science Ayurveda has a solution to reverse this damage?
Ayurveda recommends its most loved, face and body natural illuminator — 𝙉𝙖𝙡𝙥𝙖𝙢𝙖𝙧𝙖𝙙𝙞 𝙏𝙝𝙖𝙞𝙡𝙖𝙢. 𝘔𝘰𝘴𝘵 𝘱𝘦𝘰𝘱𝘭𝘦 𝘵𝘩𝘪𝘯𝘬 𝘕𝘢𝘭𝘱𝘢𝘮𝘢𝘳𝘢𝘥𝘪 𝘵𝘩𝘢𝘪𝘭𝘢𝘮 𝘪𝘴 𝘫𝘶𝘴𝘵 𝘢 '𝘵𝘶𝘳𝘮𝘦𝘳𝘪𝘤 𝘰𝘪𝘭'. 𝗜𝗡𝗙𝗔𝗖𝗧 𝗜𝗧'𝗦 𝗡𝗢𝗧. Turmeric is one of the ingredients. But, there are so many powerful herbal ingredients that go into the making of this wonderful thailam.
Shesha Ayurveda Nalpamaradi Thailam is miracle combination of 4 𝒅𝒊𝒇𝒇𝒆𝒓𝒆𝒏𝒕 Ficus 𝒕𝒓𝒆𝒆 𝒃𝒂𝒓𝒌𝒔 ( 𝑨𝒕𝒉𝒊, 𝑰𝒕𝒉𝒊, 𝑷𝒆𝒓𝒂𝒍, 𝑨𝒓𝒂𝒚𝒂𝒍 )in malayalam. Different kinds of peepal tree barks) along with sesame, vetiver, amla and turmeric etc which helps even out your complexion and removes tan without causing any harm to the skin.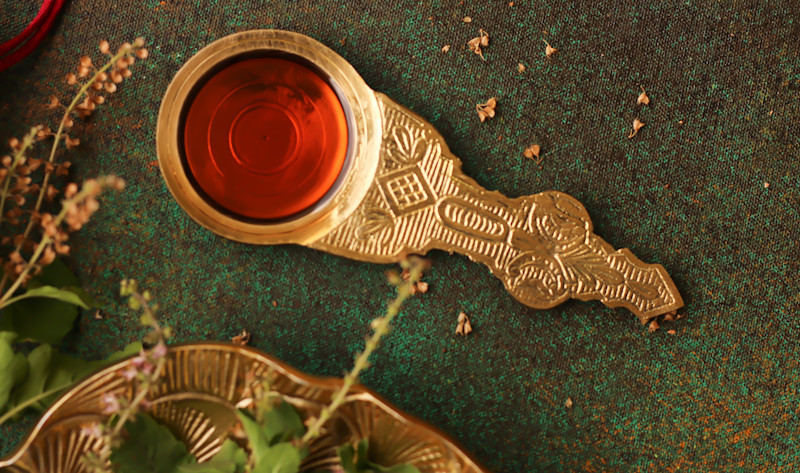 Full Ingredients :- [𝑹𝒆𝒇: 𝑺𝒂𝒉𝒂𝒔𝒓𝒂𝒚𝒐𝒈𝒂𝒎]:- Haridra(𝒕𝒖𝒓𝒎𝒆𝒓𝒊𝒄), Jwarakhna(𝒑𝒂𝒓𝒑𝒂𝒕𝒂𝒌𝒂), 4 ficus tree barks – Udumbara, Plaksha, Aswattha, Nyagrodha, 𝒉𝒂𝒓𝒊𝒕𝒂𝒌𝒊, amalaki( 𝒊𝒏𝒅𝒊𝒂𝒏 𝒈𝒐𝒐𝒔𝒆𝒃𝒆𝒓𝒓𝒚), 𝒃𝒊𝒃𝒉𝒊𝒕𝒂𝒌𝒂, Raktachandan( 𝒓𝒆𝒅 𝒔𝒂𝒏𝒅𝒂𝒍𝒘𝒐𝒐𝒅), Ramacham(𝒗𝒆𝒕𝒊𝒗𝒆𝒓),Sugandhikam(𝒑𝒖𝒔𝒉𝒌𝒂𝒓𝒎𝒐𝒐𝒍), 𝑴𝒂𝒏𝒋𝒊𝒔𝒕𝒉𝒂(I𝒏𝒅𝒊𝒂𝒏 𝒎𝒂𝒅𝒅𝒆𝒓), 𝒄𝒉𝒂𝒏𝒅𝒓𝒂𝒎𝒐𝒖𝒍𝒂(𝒂𝒓𝒐𝒎𝒂𝒕𝒊𝒄 𝒈𝒊𝒏𝒈𝒆𝒓), 𝒂𝒈𝒂𝒓𝒘𝒐𝒐𝒅 𝒊𝒏 𝒔𝒆𝒔𝒂𝒎𝒆 𝒐𝒊𝒍 𝒃𝒂𝒔𝒆
This can be used for face and body. Excellent for skin brightening & helps reduce uneven skintone, pigmentation, acne, scars and skin rashes. Turmeric is a powerful antioxidant. It helps lighten spots and scars on skin, reduces pigmentation and heals blemishes. Sesame oil is the base oil used in our Nalpamaradi Thailam. It is also available commonly in Kera(Coconut base oil) version known as Nalpamaradi Kera Thailam.
Buy Nalpamaradi Thailam ( Skin Brightening Oil ) Online
MRP
$

9.30
[Inclusive of all Taxes]
MRP
$

4.00
[Inclusive of all Taxes]
MRP
$

8.00
[Inclusive of all Taxes]