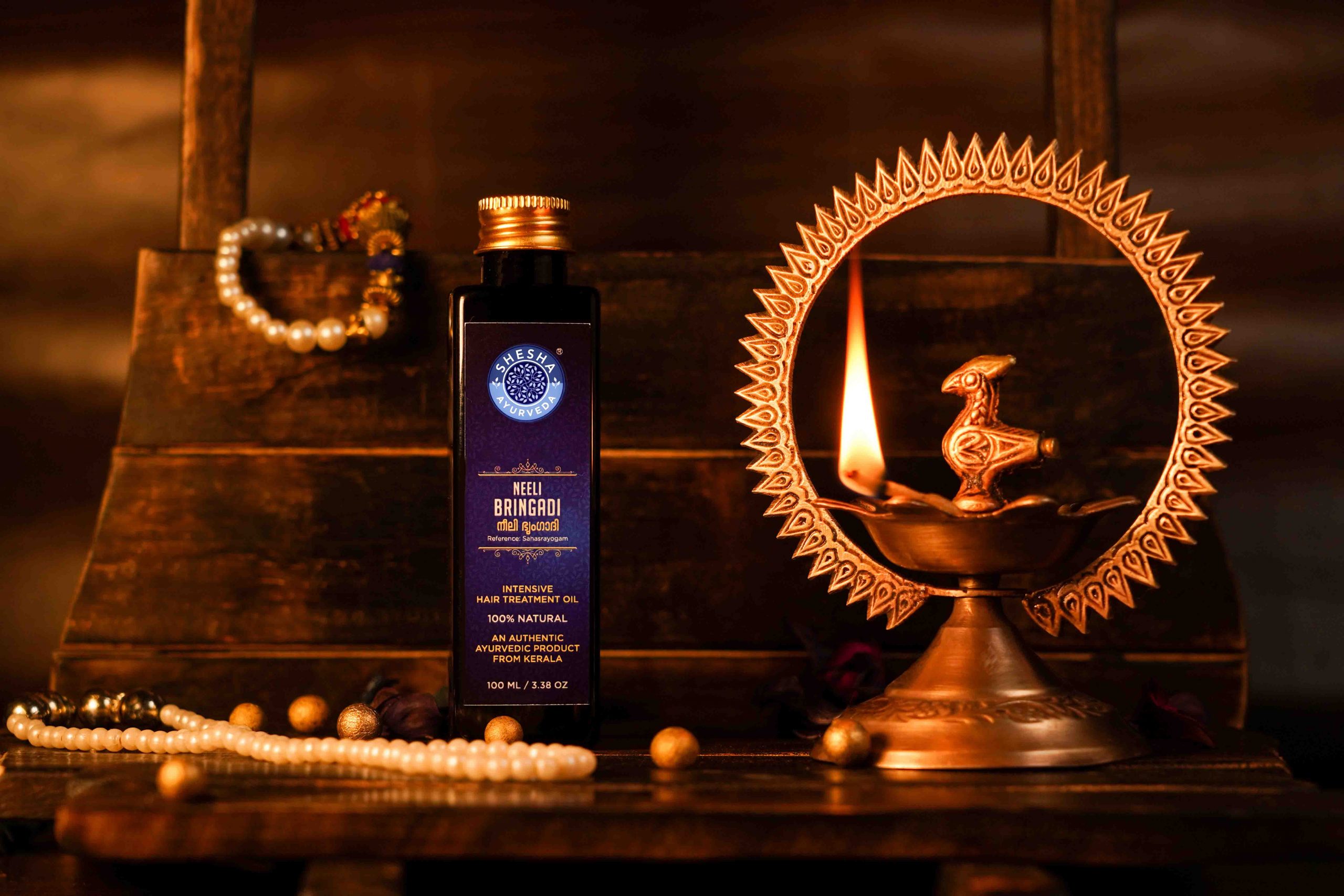 Neelibringadi For Effective Hair Treatment Oil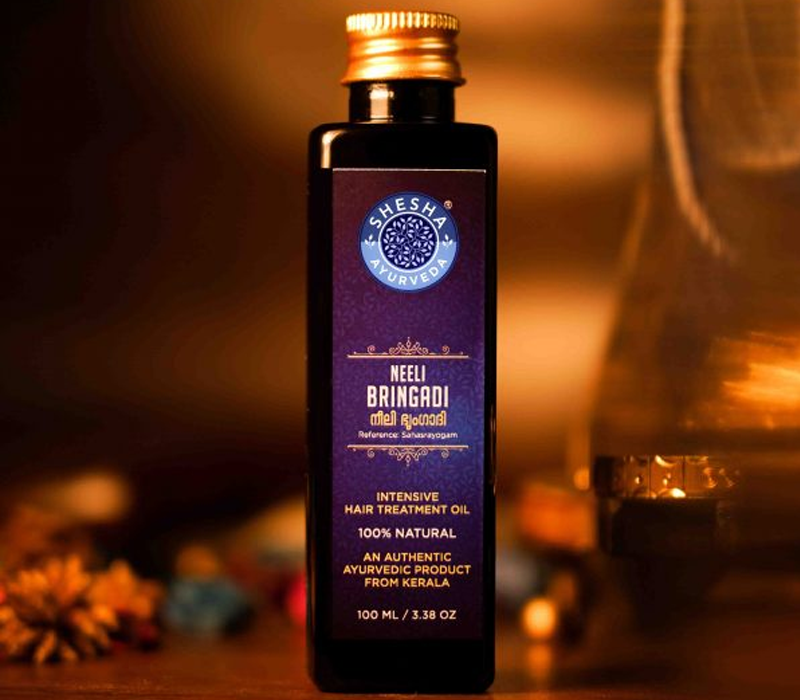 "Neeli Bringadi" or Neelibringadi Thailam or Neelibringadi Hair oil is a recommended hair treatment oil prescribed in Ayurveda for hair growth, premature greying, prevent hair loss and dandruff. Shesha Ayurveda Neeli Bringadi Intensive Hair Treatment Oil uses premium quality Grade 1 Extra Virgin Coconut oil (from Kerala) for the manufacturing process. This intensive hair treatment oil is formulated without any artificial colors, parabens, sulphates, essential oils, perfumes etc.
Everyone likes to flaunt their tresses, be it short or long, curly or straight. Healthy hair is the dream of everyone. But with today's polluted environment, to maintain healthy tresses is a challenge. Most suffer from significant issues like hair fall, split ends, rough hair, and other hair damages. The market is laden with all kinds of anti-products, anti-hair fall, anti-dandruff, to name a few. After using these products, the side effects are unimaginable as they are full of sulphates, parabens, etc. And in the other end, you have ayurvedic products like Neelibringadi, which nourishes the hair from the roots, making them healthy and strong and at the same time giving a natural shine to your curls. Neelibringadi oil is a mixture of herbs and ayurvedic oils that enhance hair growth by strengthening the hair follicles' root and preventing premature greying and dandruff. The presence of pure herbal extracts helps treat diseases that affect the hair and the scalp.
Ingredients
The preparation of the Neelibringadi oil is based on the famous Keraliya Ayurveda Classical Text "Sahasrayogam".
The ingredients involved in this oil are Neeli (Indigofera tinctoria), Bhringaraj (Eclipta prostrata), Shatakrathulatha (Cardiospermum halicacabum), Amla, Coconut milk, Goat milk, Buffalo milk, Cow milk, Licorice, Gunja roots, Anjana. The base oil may be either sesame oil or coconut oil. When coconut oil is used as the base, it is called Neelibringadi keram.
Role of the key ingredients
Neeli (Indigofera tinctoria) promotes hair growth resulting in thick, strong, shiny and healthy hair.

Bhringaraj (Eclipta prostrata) involves strengthening the hair root to improve the hair's growth and prevents premature greying and hair fall.

Amla ( Phyllanthus emblica) rich in antioxidants and vitamin C helps strengthen the hair and scalp and prevents baldness and hair fall.

Shatakrathulatha (Cardiospermum halicacabum) improves hair growth and prevents itchiness, scalp infection.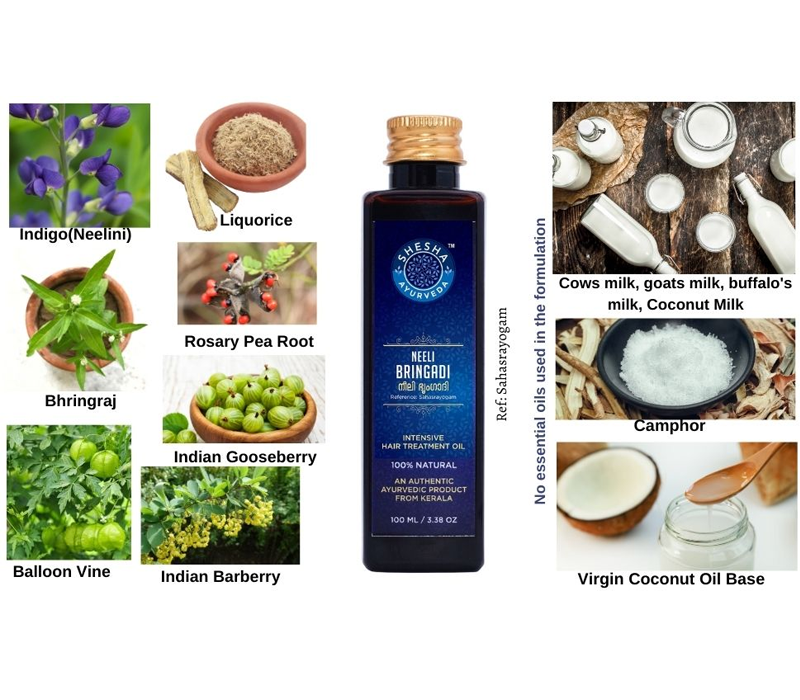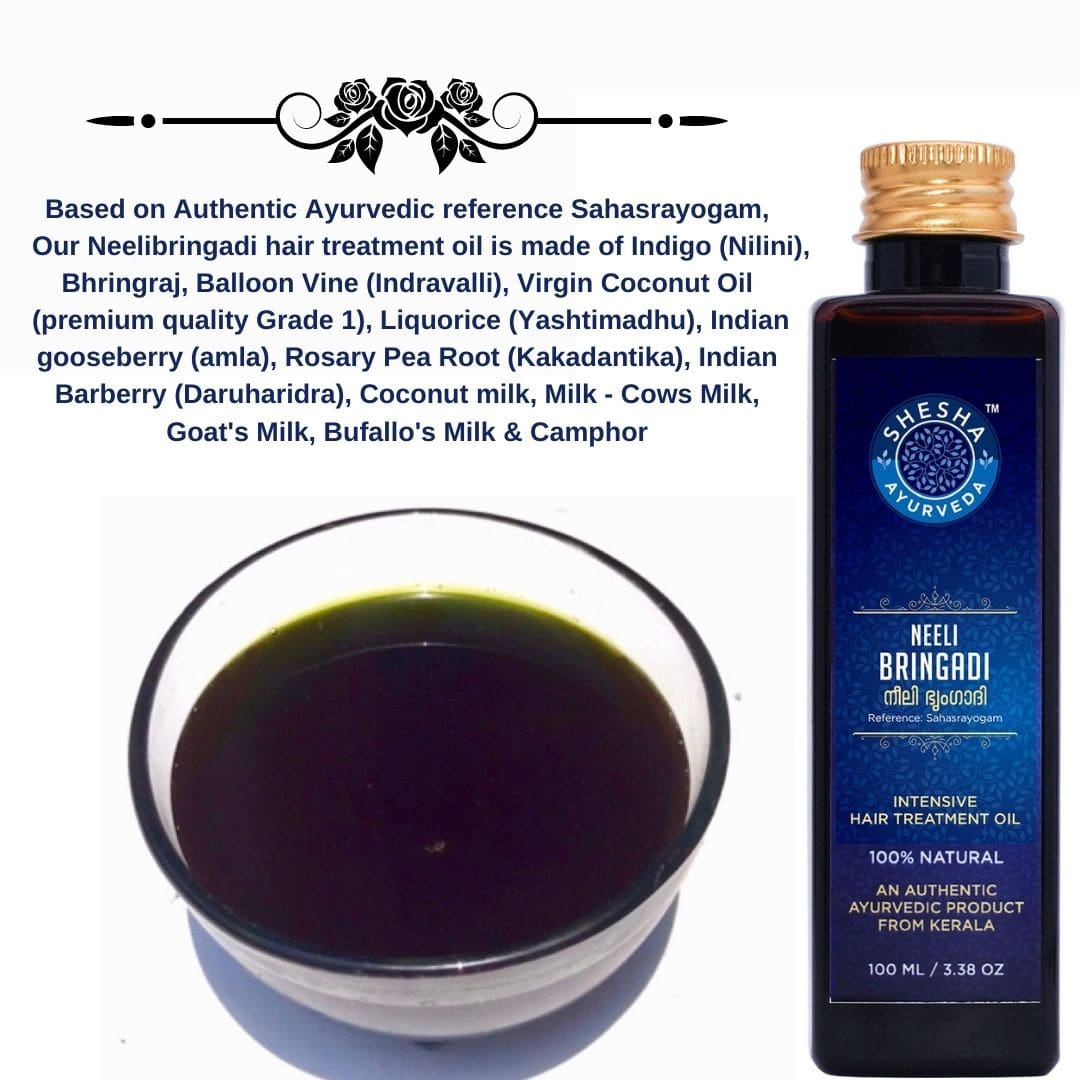 How to use?
This oil is for external application only. You can massage the oil onto your scalp half an hour before bath or be applied overnight followed by hair wash in the morning.
How it works?
Shesha's Neelibringadi oil acts on the Anagen phase of hair growth. In the Anagen phase, cells in the hair root divide rapidly forming new hair. Neelibringadi oil activates cell division of the hair root and helps in the regrowth of the hair.
Benefits
100% herbal and natural
No added fragrance or colour
Promotes hair growth
Prevents hair fall and baldness
Treats premature greying
Improves the quality of the hair
Treats split ends and breakage of the hair
Strengthens the scalp
Gives sound sleep by soothing the brain and nervous system
Regular usage of this oil cures eye disease due to heavy heat.
FAQs of Neelibringadi Hair Oil
Can I leave Neelibringadi hair oil overnight ?
We recommend to use and leave it on hair for 30-40 minutes and wash off using a mild cleanser / kesh samraksha. As it has virgin coconut oil base, it might cause cold to certain people. So, use as directed.
Is this hair oil effective for scalp psoriasis ?
Consult with your Ayurvedic Practitioner and take advice. A physical examination can identify the root cause of the problem and your doctor can suggest the best hair care routine for you.
Can I mix Neelibringadi hair oil with other carrier oils / essential oils ?
Our Neelibringadi is a unique Ayurvedic Formulation and one of it's main feature is that it doesn't contain any essential oils or artificial fragrances. So, We request you to use Neelibringadi Oil as it is for best results. Please don't mix it with other oils / essential oils. It reduces efficacy of the ingredients.
Can I apply the hair oil daily ?
Can I use Neelibringadi hair oil for my baby ?
Newborn babies – We recommend you to use our Virgin Coconut Oil. Once baby turns one year, You can start using Neelibringadi Hair Oil
My hair is colored, will Neelibringadi face my hair color ?
If you have done any chemical hair treatments, please follow the products your stylist recommend. Also, Chemical Treatments and Ayurvedic Products won't go well. So, We recommend you do a strand test or patch test and wait for 36-48 hours to see how it goes before using.
Can Neelibringadi hair oil help with grey hairs ?
No, if you already have grey hair, nothing can reverse it. However, You may use our Ayurvedic Hair Color Kit – Nilini after patch test to temporarily color your hair to natural black and use Neelibringadi to maintain good hair. Nilini if use, reapplication is required every 15-20 days depending on how sooner your grey hairs start to reappear.
Is it normal to experience an increased hair fall when using Neelibringadi oil for the first time ?
If you are using Ayurvedic products for the first time, there will be a transition phase. This transition phase can last for days, weeks etc. It's normal to lose upto hundred strands per day. Also, if you experience a severe hairfall, we recommend you consult your doctor and check your internal health as well. If there is a hormonal imbalance / thyroid / vitamin or iron deficiency too, People experience hairfall. Post covid phase too, few people experience hairfall. Findout the root cause of your hairfall.
Disclaimer — Hairfall can be due to various underlying factors like stress, hormonal imbalances or a unhealthy lifestyle etc. If you don't have any vitamin deficiencies or hormonal issues, then these topical treatment products work their way and helps maintain a healthy hair with regular use.
Can Neelibringadi be applied to beard, moustache eye brows etc ?
Can I use Neelibringadi hair oil on straightened or smoothened hair ?
We suggest strand/patch testing and wait for 36-48 hours as chemical treatments doesn't sync with Ayurvedic treatments.
Is Neelibringadi hair oil a unisex product ?
How long will it take to see the results ?
3 months of consistent use. Weekly 3-4 times usage is advised. Every hair is different. Some people see quick results. Consistency is the key.
Does Neelibringadi help with premature greying and baldness ?
Long term use of Neelibringadi Hair Oil helps maintain good hair as well as delay the premature greying of hair. However, if your hair is already grey and bald, Nothing can reverse it .
Will this help treat alopecia ?
For Alopecia, We recommend you consult a trichologist or Ayurvedic Practitioner
What is the shelf life of Neelibringadi hair oil ?
Shelf life – 3 years from the date of manufacturing. Once opened use within 6 months. As there are no preservatives in the product, Please ensure the product is stored in a dry place away from water and moisture contact. Please don't store in bathroom shelf etc.
Buy best Neelibringadi Hair Oil Online from Shesha Ayurveda
Real People, Real Results - Hear from our customers!
[testimonial_r display_author="false" display_avatar="false" display_url="false" items_1201up="1″ items_993_1200="1″ items_769_992="1″ items_641_768="1″ items_360_640="1″ items_0_359="1″ navigation="1″ pagination="1″ item_margin="30″ speed="500″ loop="true" auto="" thumbnail=""]